About Prague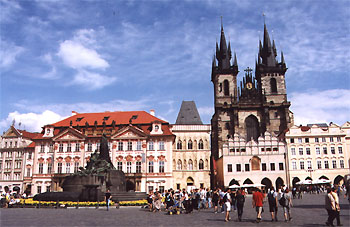 Prague is the capital city of the Czech Republic which lies in the heart of Europe, neighbouring with Germany, Austria, Slovakia and Poland. There is a number of non-stop border crossings available with an excellent connection by car, bus, train or plane.
In 1992 the historical centre of Prague was listed in the UNESCO World Cultural and Natural Heritage Register. Prague was also one of the nine cities awarded by the European Community the title of European City of Culture for the year 2000.
"Praga caput regni" has been inscribed in Prague's coat of arms. And rightly so. Since the very beginning, Prague has always played an important role in the history of both the nation, country and Europe. Since the Middle Ages, Prague is known as one of the most beautiful cities of the world. In fact, Prague represents a unique collection of historical monuments dominated by Prague Castle which towers high above the city. It merges all artistic and architectonic styles and movements. The historical core of the city is situated on both banks of the Vltava river and consists of 6 parts - formerly independent urban units unified in the 18th century. They are as follows: Stare Mesto (Old Town), Josefov (the preserved part of the former Jewish Town - today part of the Old Town), Nove Mesto (New Town), Mala Strana (Lesser Town), Hradcany and Vysehrad. Naturally, most of the historical monuments, museums and galleries are concentrated there.
Address of the venue and contact
Czech Technical University
Faculty of Electrical Engineering
Department of Cybernetics
Karlovo namesti 13
121 35 Prague 2
Czech Republic

For local organisational help (available for attendees of the workshop only):

Barbora Jenikova
Phone: +420 224 357 386
Mobile: +420 776 552 356
E-mail: jenikov@fel.cvut.cz